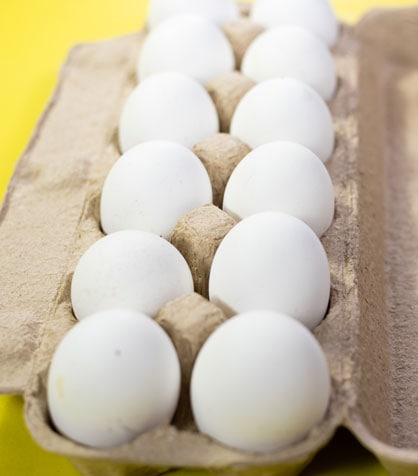 Buy 12 Count Egg Cartons
Many of the world's largest retail grocers, distributors, foodservice operations, and more count on Eggs Unlimited. Our customers can depend on our timeliness, diverse supply chain, and market experience. With quality products and competitive prices, we provide our customers with unmatched service and reliability.
What material is used for 12 count egg cartons?
12 count egg cartons can be made from foam, pulp stock, or rigid plastic.
Can I get 12 count egg cartons of any type?
12 count egg cartons are available in any material for any egg type, including cage-free, organic, free-range, pasture-raised, brown, or white eggs. You can order 12 count egg cartons for any size of eggs, including medium, large, extra large, and jumbo. 12 count egg cartons are also available for quail or duck eggs.
Can I add a custom label for 12 count egg cartons?
Eggs Unlimited offers packer-label 12 count egg cartons or Lindsey's Gold private label. We can also help supply or create branded cartons and custom labels for your business. Contact us to discuss our branding and labeling solutions.
How are 12 count egg cartons packaged?
12 count egg cartons arrive in cardboard or plastic cases of 15 dozen or 30 dozen. Overwrap, a protective plastic sheet, can also be added to cover egg packaging.
How much do 12 count egg cartons weigh?
The USDA sets weight standards for 12 count egg cartons. A jumbo 12 count egg carton weighs 30 ounces, and an extra-large carton weighs 27 ounces. Corresponding figures for large, medium, small, and peewee 12 count egg cartons are, respectively, 24 ounces, 21 ounces, 18 ounces, and 15 ounces. These figures do not account for the weight of the empty egg carton, which is negligible.
12 count Egg Cartons approximate weights:

| | |
| --- | --- |
| 12 Count Egg Sizes | 12 Count Egg Carton Weight |
| Peewee | 15 ounces |
| Small | 18 ounces |
| Medium | 21 ounces |
| Large | 24 ounces |
| Extra Large | 27 ounces |
| Jumbo | 30 ounces |
What certifications are available?
United Egg Producers (UEP), Humane Farm Animal Care (HFAC), American Humane (AH), and USDA egg product certifications are available. These entities create and administer production guidelines to which processors and producers adhere to meet legislative requirements or corporate standards.
Why Eggs Unlimited?
Eggs Unlimited was built to service the needs of the global egg industry. We help producers expand their reach into the marketplace and buyers secure the products they need. We service our clients with unmatched market insight, logistics expertise, strategy development and support. This is how we have earned the trust of major retailers, foodservice organizations, distributors, and producers around the world.
Let's discuss ordering 12 count egg cartons wholesale
Contact Eggs Unlimited to order 12 count egg cartons wholesale.
Call: 888-554-3977
E-mail: eusales@eggsunlimited.com