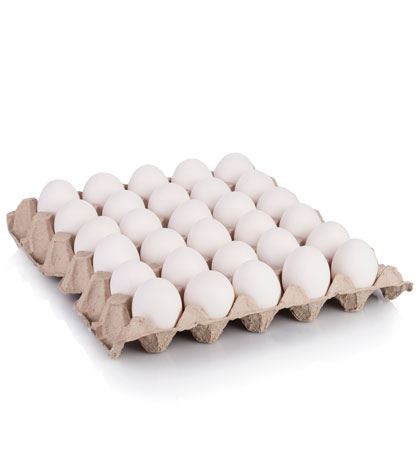 The world's largest processing companies, food manufacturers, QSR's, and more trust Eggs Unlimited to provide supply-chain solutions for their egg product needs. That is because the Eggs Unlimited is a one-stop-shop for all your liquid, frozen, dried, and precooked egg products. Buyers gain access to this diverse supply-chain to ensure deliveries arrive on time, in full, and at competitive prices. We help our processing partners by expanding their reach, not only in the US, but across the globe.
Processing all varieties of egg products
Eggs Unlimited works with the egg industry's largest global processors to create liquid, dried,frozen, and the precooked egg products commonly used in foodservice and manufacturing. We meet the demand of our customers with commodity, cage-free, and organic supply. Roughly one third of all production is processed in the US, and Eggs Unlimited is one of the leading suppliers of egg products in the industry.
Processing and the supply chain
Egg processing takes place at both in-line and off-line facilities. These systems offer both cost savings and risks associated with unexpected supply-chain impacts, including bird diseas, fire, plant shutdowns, and other factors. Eggs Unlimited offers multisource supply solutions to make sure delivery disruptions are limited and our customers always have alternative supply options through domestic and international partners.
Safety considerations in egg processing
Egg products that enter the consumer market are often pasteurized. This is a heat treatment that eliminates the risk of harmful pathogens such as Salmonella enteritidis. Egg products also come with certificate of analysis (COA's), which detail lot information for each shipment.
Certifications
Eggs Unlimited offers egg products from all of the major certifying bodies.This includes UEP Animal Care, Humane Farm Animal Care (HFAC), and American Humane. We also offer certified organic egg products, Kosher Certified, and much more. Our experience teams of supply-chain experts can help you business source any type of egg product specifications.
Why Eggs Unlimited?
Eggs Unlimited is one of the leading egg product suppliers in the world. We help hundreds of companies each year source their liquid, dried, frozen, and precooked egg products. Our sales team helps processors to expand their reach, and buyers secure more diverse supply solutions. Our team has hundreds of years of combined experience in the marketplace, helping our customers make the best decisions for their business and taking the guesswork out of the market. With Eggs Unlimited, you gain a trusted partner from the initial consultation.
LET'S DISCUSS YOUR EGG PRODUCT NEEDS!
Contact Eggs Unlimited to learn all about our full services solutions.
Call: 888-554-3977
E-mail: eusales@eggsunlimited.com