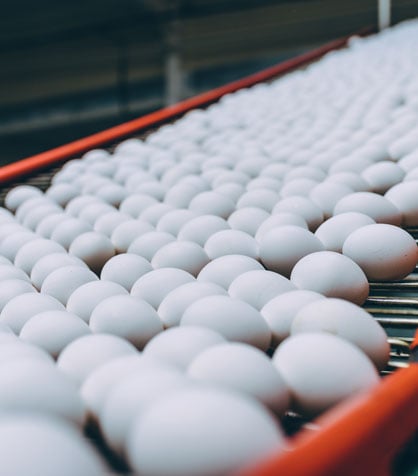 Egg Products
Eggs Unlimited is among the world's leading egg product suppliers. Through partnerships with processors in the United States and around the world, we are ready to meet your egg product needs. We offer egg products from cage-free, organic, and conventional production.
When you source your egg products from Eggs Unlimited, you gain a trusted partner in a complex and ever-evolving marketplace. We give our buyers confidence by identifying their needs, matching required specs, providing unmatched insight into the marketplace, and by creating diversity in their supply-chain. Our expert teams manage deals from start to finish, meaning our customers have someone to rely on from the negotiation process to delivery of the last pound.
We share samples and spec sheets from numerous suppliers so our customers know product meets their functional needs. We also oversee all distribution and collection of COAs and product certifications. Our logistics team also offers real-time delivery tracking and insures high-value loads to bring peace of mind throughout the process.
explore oUR Egg PRODUCTS options
Conventional Egg products
CAGE FREE EGG Products
organic egg products
Liquid Tankers
totes
bag-in-box
gable top
frozen buckets
Frozen Totes
dried whole eggs
dried egg whites
dried egg yolk
specialty blends
And More…
---
What does the term "egg products" refer to?
The term "egg products" refers to eggs that have been removed from their shell and processed for use in retail, food service, or industrial settings. Egg products are processed at USDA-inspected breaking plants, where they are filtered, mixed, pasteurized, and packaged for distribution. 
Types of egg products
Eggs Unlimited offers liquid, dried, and frozen egg products. These products are known for their easy storage, extended shelf life, and high durability. 
Liquid whole egg is a proportionate mixture of whites and yolk, or liquid can be separated into whites and yolks. Ingredients can be added to liquid as desired by the customer. Eggs Unlimited offers liquid egg in gable top cartons, bag-in-box, industrial totes, pails, and more. Bulk liquid can be shipped in 48,000-pound refrigerated tankers for further processors or other manufacturers.
Dried egg products are egg powders that have been dehydrated via spray drying in a large oven. As the liquid egg is sprayed into the oven, the water in the liquid evaporates, leaving behind a fine egg solid powder. Eggs Unlimited offers dried whites (albumen), yolk, whole egg, and custom blends. Dried egg products typically come in 50 lb. boxes. Pallets usually contain 30 boxes or 1,500 pounds. Dried egg does not require refrigeration.
Frozen egg is available in 30-pound pails or industrial totes. Stored at a maximum temperature of zero degrees Fahrenheit to ensure freshness, frozen egg is a convenient option for industrial manufacturers. Other ingredients such as salt and sugar can be added as part of the production process.
Production types
Egg products are available in cage-free, conventional, and organic varieties. Twice-annual USDA inspection is required for an egg processor to maintain a cage-free or organic certification.
Commercial uses of egg products
Egg products are highly versatile. Functional properties include, but are not limited to:
Adhesion and binding. Egg white proteins are strong adhesion and binding agents that food manufacturers rely on in processing applications.
Aeration. Egg products aerate in ways that build structure for baked products created at industrial scale.
Emulsification. Food producers use egg products' special emulsification properties to manufacture creamy sauces, spreads, and condiments.
Leavening. Through egg product leavening, gases are added to baked products to increase their volume and yield proper shape and texture.
Shelf life extension. Egg products are a natural shelf life extender highly favored among commercial bakeries and food manufacturers.
Protein fortification. Manufacturers serving a consumer base interested in higher protein intake often use egg products to meet their customers' needs.
The American Egg Board (AEB) lists additional uses via its Incredible Egg project.
Domestic and international availability
Eggs Unlimited works with customers and processors across the globe. The long shelf-life of dried and frozen products allows our partners to reach customers across the globe. Eggs Unlimited's team of expert logistics specialists and market experts have insight into global market trends and opportunities. We leverage this insight to help our suppliers and buyers diversify their supply chain and create long-standing, strategic positions to support their business needs. 
Egg product certifications
The eggs used to create egg products may be certified by the USDA, United Egg Producers (UEP), American Humane (AH), and Humane Farm Animal Care (HFAC). These regulatory bodies outline production guidelines that producers and processors follow to meet the requirements of their customers based on state legislation or corporate commitments. Their seals may appear on packaging labels to confirm certification.
Why Eggs Unlimited?
As one of the largest egg product suppliers in the world, Eggs Unlimited has the knowledge, infrastructure, and market expertise to support buyers and sellers amid shifting marketplace dynamics. We leverage our robust, diversified processor network to create reliable supply chains for sellers and buyers. Our team of experts provides unique support throughout the negotiation process and life of each contract to support our customers and suppliers. Eggs Unlimited helps match buyers and suppliers to broaden market reach and ensure successful partnerships both domestically and abroad.
LET'S DISCUSS YOUR EGG PRODUCT STRATEGY!
Contact the Eggs Unlimited Sales team to optimize your egg product and ingredients strategy today.
Call: 888-554-3977
Email: eusales@eggsunlimited.com