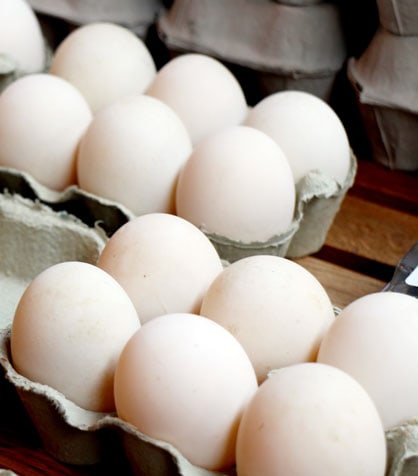 Order Duck Eggs Wholesale from Eggs Unlimited
Eggs Unlimited is one of the leading suppliers of duck eggs. Customers around the world come to us for our expertise and experience, giving them access to extensive supplier networks, unparalleled market insight, and great pricing. We offer duck eggs from organic, cage-free, free-range, and non-GMO production, offering our customers prime choices in this specialty egg market.
OUR Other specialty eggs
Duck Eggs
Quail eggs
heirloom eggs
And More…
---
What are duck eggs?
Duck eggs are eggs that come from ducks instead of chickens. Like chicken eggs, they consist of an egg yolk and an egg white. Food manufacturers may prefer them to chicken eggs for adding richness and flavor to dessert products.
Duck egg size and appearance
Duck eggs come in several colors, including white, green, and brown, and some eggs are speckled. A typical duck egg weighs 3.5 ounces and is larger than chicken eggs by about 50 percent on average. Duck eggs also have thicker shells and larger yolks than chicken eggs.
Since duck eggs' yolks are larger, they have higher fat content and lower water content than chicken eggs. This water is primarily in the duck egg white, which is clear, whereas chicken egg whites often have a slight yellow tint. The higher fat content is why duck eggs are great for adding richness in dessert product manufacturing.
Why should you buy duck eggs?
Wholesale duck eggs can be great for any large buyer looking to extend their eggs' shelf life or add additional options to their egg cases. Duck eggs' thicker shells can give them a longer shelf life than chicken eggs.
Large manufacturers and foodservice organizations can use wholesale duck eggs to manufacture baked products with cream and custard fillings. Duck eggs are especially helpful for processing creams and custards since duck eggs are higher in fat content and lower in water content.
Consumers are increasingly demanding duck eggs as well. In 2019, 15 million duck eggs were bought at grocery stores or eaten at restaurants. As the market continues to embrace duck eggs, grocery stores, restaurant suppliers, and other companies can meet the demand with a reliable duck egg supply.
Duck egg certifications
The USDA can certify duck eggs as organic, free-range, cage-free, and non-GMO. Duck eggs can also be certified humane if the farmers meet the conditions.
Why Eggs Unlimited?
At Eggs Unlimited, we save our customers substantial time and money by leveraging our decades of experience establishing and expanding supply chains around the world. Our strong relationships with the world's largest foodservice organizations, egg processors, retailers, distributors, and producers power our work. We always offer these entities competitive prices and handle all logistics from start to finish.
We operate in a problem-solving, value-creating capacity as an extension of our customers' procurement or sales teams, all while ensuring timely deliveries in full. Family values lie at the core of our work, and at Eggs Unlimited, our clients become part of the family.
LET'S DISCUSS YOUR DUCK EGG STRATEGY!
Get in touch with the Eggs Unlimited sales team to learn about all your duck egg options.
Call: 888-554-3977
E-mail: eusales@eggsunlimited.com