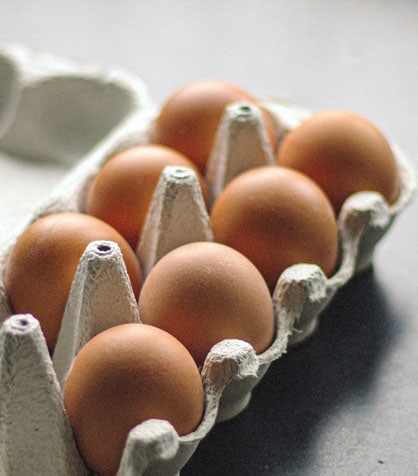 Buy Organic Cage-Free Eggs from Eggs Unlimited
The world's most prominent foodservice organizations, retailers, and QSRs entrust their egg purchasing needs to Eggs Unlimited. With resilient supply networks, full logistics support, and market insight informed by decades of hands-on experience, we at Eggs Unlimited don't just supply organic cage-free eggs. We partner with our clients to ensure smooth operations and solve any supply chain challenge that may come their way.
Explore Our Organic egg Options
30 DOZEN EGGS
15 DOZEN EGGS
OVERWRAP
PRIVATE LABEL OR BRANDED PACKAGING
And More…
---
What are organic cage-free eggs?
Organic eggs are sourced from hens in living conditions that adhere to USDA organic guidelines. Cage-free eggs come from laying hens in conditions that align with USDA cage-free guidelines. Organic cage-free eggs meet all criteria in both categories.
What makes an egg cage-free?
According to USDA guidelines, cage-free eggs must come from hens that can roam freely indoors. These hens must be able to move freely, and they must have full access to food and water. Their spaces must also include predator protection measures, litter, perches, scratch areas, and nesting boxes.
What makes an egg organic?
USDA organic standards require that laying hen feed be organic and not genetically modified. This feed cannot include pesticides, byproduct, synthetic fertilizers, or chemical additives. The hens must not be given antibiotics unless there is an infection or another medical need. These hens' environments must allow for natural behaviors, such as nesting, dustbathing, and perching. Outdoor access is also required.
Organic cage-free egg nutritional facts
Below is the nutritional profile of a standard organic cage-free egg.
| | |
| --- | --- |
| Calories | 70 |
| Total Fat | 5 g |
| Saturated Fat | 1.5 g |
| Sodium | 70 mg |
| Protein | 6 g |
| Calcium | 20 mg |
| Iron | 0.7 mg |
Organic cage-free vs. free-range eggs
Though sometimes used interchangeably, the terms "cage-free" and "free-range" differ. Cage-free hens roam freely within an indoor space. Free-range hens roam freely outdoors. Additionally, USDA free-range criteria include all cage-free criteria, though not all free-range eggs meet organic criteria. Organic guidelines primarily dictate the hens' feed rather than space, though certain organic provisions cover nesting, dustbathing, perching, and outdoor access.
Organic cage-free vs. pasture-raised eggs
Pasture-raised eggs are sourced from hens that roam outdoors freely. Each hen must have at least 108 square feet of space to roam and eat. Organic cage-free eggs come from hens free to roam within an enclosed space.
Organic cage-free eggs certifications
The USDA regulates the terms "organic" and "cage-free." As such, all organic cage-free eggs must bear a USDA seal proving their organic and cage-free certifications.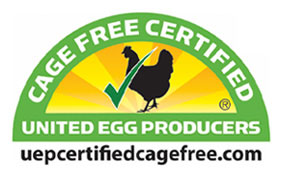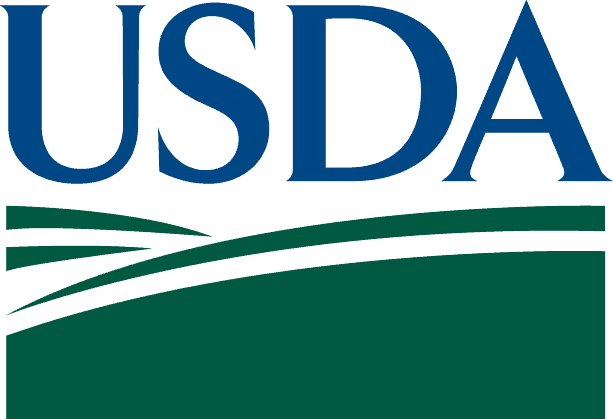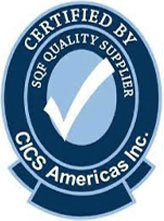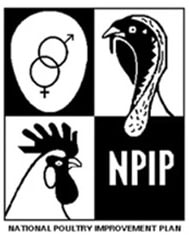 Why Eggs Unlimited?
From coordinating delivery to sharing the latest insights on the future of the organic cage-free egg market, Eggs Unlimited's dedicated staff is with our clients every step of the way. Our diverse supply chains are designed to be resilient to market fluctuations, so you can focus on growing your business while we focus on getting you this essential ingredient. It's just one of the reasons why we're proud to be one of the world's leading egg suppliers.
LET'S DISCUSS YOUR ORGANIC CAGE-FREE EGG STRATEGY!
Reach out to Eggs Unlimited to learn about your organic cage-free egg options.
Call: 888-554-3977
E-mail: eusales@eggsunlimited.com